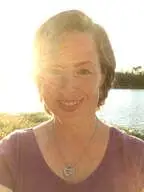 I have a Master's in Social Work from The University of California at Berkeley.
I am a Licensed Clinical Social Worker with the State of California: CA LCSW 64803
I have worked for numerous non-profits as well as government entities.
I have experience working with children, teens, all age adults, LGBTQIA, couples and family groups.
Although this work is about the amazing you in all of your variations, I understand that it helps to know a bit about myself to help you determine if you would like to work with me. I am a mother and have worked on various civil rights causes. I am a homesteader and lover of all things nature. I enjoy farming, reading, writing, learning, and music. I am an empath and a sensitive. I am extremely adaptable and have walked in many paths of life. I entered this field because I can understand and relate and want you to know that you are so much more than a diagnosis. You are a whole multi-faceted complex and beautiful system that I look forward and feel honored to know. I believe in an individual's rights and autonomy. I enjoy connecting in an authentic way with people and value all of our differences as well as our similarities. I recognize that no one framework can function for all people. We are so varied in the ways in which we move through this world. We come from different cultures and belief systems. I will work with you in the framework that makes sense to you. My priority is respect of you and your dignity. Therefore, I suppose the greatest thing you can know about me is that I honor you and will be transparent with you.